Company Profile
---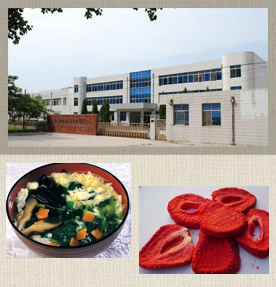 New Sanhe (Yantai) Foods Co., Ltd., established in September 2005, is an enterprise wholly owned by a Singaporean which is mainly involved in the R&D, production and sales of vacuum Freeze-Dried foods (FD foods for short).
As early as the 1990s when freeze-dried foods were still little known among common people, the predecessor of New Sanhe started to engage in the development of freeze-dried food processing technologies in China. From then on, New Sanhe played the role of the pioneer and leader of freeze-dried foods in the industry in China, and blazed a trail of success focusing on the core value of quality and management. Today, the company implements the industry's leading quality and safety management system, and has become one of quality freeze-dried foods suppliers to a group of the world's leading foods manufacturer like Master Kong, KFC, and Japan-based Sanyo, as well as many other international foods producers.
New Sanhe is located in Yantai City of Shandong Province, where agricultural products and resources are abundant. This arrangement gives the company a unique advantage in sourcing raw materials. The company now is provided with 4 modern production plants and19 freeze-drying production lines, with a building area of 3,800 square meters, and a production capacity that ranks high among manufacturers of Freeze-Dried foods around the world.
Mr. Chen Quanfu, the founder of the company, has been working with the management team to focus on the development of freeze-drying technologies in an effort to launch new products, develop new technologies, and employ management models continuously. Meanwhile, the company implements strict management system, and persistently seeks the development by offering quality products and following the principle of business integrity, and pursues profits through quality products. The company also introduces the world's leading quality management systems into the plant, and passed the certifications of HACCP, ISO9000, American KOSHER, OHSAS1800 -2001, European SGS, and QS standards successively.
At present, New Sanhe has become the only supplier in China's Freeze-Dried foods industry who is qualified to export its FD foods to Mainland China, the United States, Europe, Japan, Taiwan and Southeast Asia business.